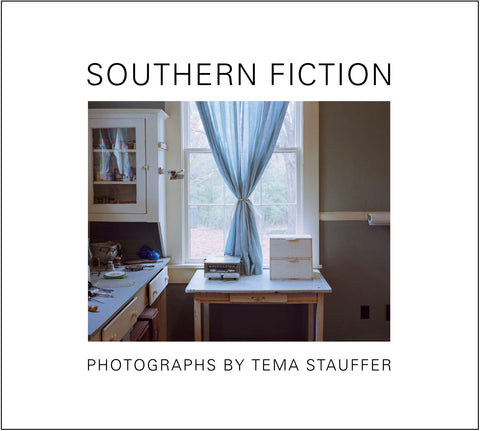 Book Details: 
Hardcover
ISBN-13: 9781954119161
100 pages; 37 Color Photographs
10 x 12 inches
$50 US
Featured in: The New Yorker, Esquire – "The Best Fantasy Books of All Time", Esquire – "The Best Fantasy Books of All Time", Harper's Magazine Online, Booooooom, Mississippi Arts Hour, and Salvation South.
Southern Fiction explores the history of the American South using its literary tradition as a road map by focusing on environments which have shaped the imaginations of 20th-century Southern writers during their formative years or throughout the course of their lives and careers. The images portray domestic settings, vernacular architecture, and rural landscapes that visually resonate with the history, culture, and atmosphere of the Deep South. 

Tema Stauffer is a photographer whose works examines the social, economic, and cultural landscape of American spaces. She is currently an Associate Professor of Photography at East Tennessee State University. Her work is represented by Tracey Morgan Gallery in Asheville, North Carolina and has been exhibited at galleries and institutions nationally and internationally. 

Casey Cep is a staff writer at The New Yorker and the author of Furious Hours: Murder, Fraud, and the Last Trial of Harper Lee. 

Lauren Rhoades is a writer and director of grants at the Mississippi Arts Commission. Formerly, she served as director of the Eudora Welty House & Garden, a literary house museum in Jackson, Mississippi operated by the Mississippi Department of Archives and History. 

Honorée Fanonne Jeffers is a novelist, poet, and essayist. Her first novel, The Love Songs of W.E.B. Dubois, was an instant New York Times bestseller, won the National Book Critics Circle Award for Fiction, and was nominated for the National Book Award.