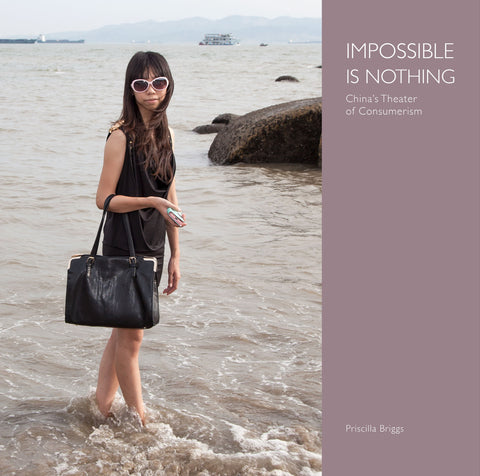 BOOK INFO
Paper Over Board, 11 X 11 In. / 116 Pages  / 60 Color Photographs
ISBN 9781942084334
List Price: $45.00
Photographs by Priscilla Briggs
Contributions by Rob Schmitz
Foreword by Susannah Magers
Impossible is Nothing documents China as a rising power struggling to integrate capitalism into a communist system.
During a decade of rapid economic growth, American photographer Priscilla Briggs traveled along the eastern seaboard of China. Impossible is Nothing explores various facets of Chinese society, within the context of a communist system that engages in "capitalism with Chinese characteristics." These photographs examine constructed Chinese realities of luxury and status, with the West serving as a model for capitalist consumerism. Portraits, still-life images, and urban landscapes are woven together to create a lyrical ode to the optimism and imagination of contemporary China.
Priscilla Briggs is a lens-based artist who investigates global representations of capitalism and consumerism. Her work has been exhibited internationally, most recently in the Landskrona Photo Salon in Sweden, the Minneapolis International Film Festival, the DeVos Museum in Michigan, and many more.