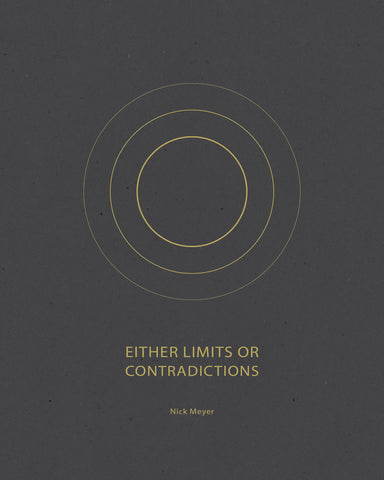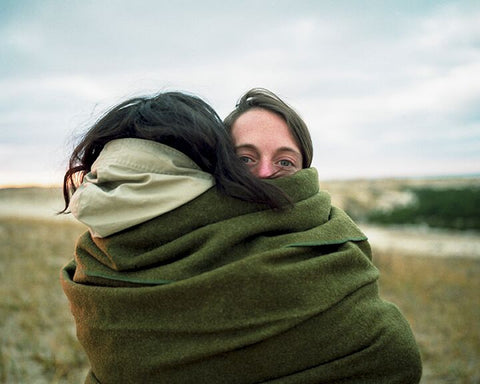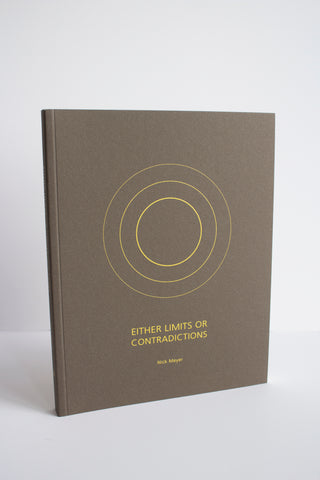 BOOK INFO
Flexibound, 8 X 10 In. / 144 Pages / 100 Color Photographs
ISBN 9781942084341
List Price: $50.00
"Meyer's photographs are hyper-personal and tenderly nuanced to his own reality.",
- Time Lightbox, March 31, 2017
"Photographer Nick Meyer has beautifully articulated the fleeting and fragile nature of life lived in his new monograph...",
- Lenscratch, July 3, 2017
"Meyer channeled his grief into an arresting swatch of images...",
- Musee Magazine, August 3, 2017
Photographs by Nick Meyer
Foreword by Aaron Schuman
Contributions by Lawrence Ferlinghetti
Either Limits Or Contradictions is a photo book by Nick Meyer about the pace of life, death, and the passage of time.
Told in three chapters, Either Limits or Contradictions captures feelings of self-discovery, enjoyment, and death. Nick Meyer takes the viewer on the ebb and flow that makes up life. His visual narratives examine and confront the anxiety and eventuality that, because we all were born, time will pass, and so will we. As if the camera is an extension of his hand, Meyer's images are candid, honest, and universal.
Nick Meyer received his BFA from MassArt in 2005 and his MFA from California College of the Arts in 2008. He is the recipient of the Pace Gallery Award and the Barclay Simpson Prize. He is represented by Uprise Art in New York.